The King of Pop
Hi! I am going to present to you an artist everyone knows. I am totally sure you know him! This person is Michael Jackson! He is the most famous artist in the world, the most honoured one, a great dancer, the best singer, well in a nutshell, he is THE artist. Seven of his albums are still among the most sold out albums in the world. Above all, M.Jackson is a humanitarian person and that's why I love him. But now he's dead. He died on June 25 2009 and he was only 50 years old. I think he was young and he had a lot to give yet. He was born in Indiana in 1958 in a big underprivileged family. He grew up with his eight brothers and sisters. A few years later, the little Michael and his elder brothers created the emblematic band that we all know : The Jackson 5.
[
youtube http://www.youtube.com/watch?v=aASwsMOy-pA
] He started his solo career at the age of 13 I think. He made some songs with a few artists. After this period, in the beginning of the 80s, people realized that MJ was revolutionizing the music industry . He became one of the 1st singer who released his songs with music videos. All of this started with one of my favorite songs of this period « Don't Stop 'Til You Get Enough ». [
youtube http://www.youtube.com/watch?v=yURRmWtbTbo
] 1982 – Thriller is the  longest music video of the Pop History. It is14 minutes long! It is like a short movie. I love Thriller because it scares my sister and it always makes me laugh. So, Thriller had an amazing success: 1 million albums sold in only one month, it is awesome, 10 millions in 10 years and more than 40 millions until now.

Through his concerts and videos MJ invented several famous dancing moves  like « the Moonwalk » which became his hallmark. Once, during a live performance with his brothers in 1988 the King of Pop sang and danced Billie Jean for the first time. It is was also THE FIRST time he did the MOONWALK.
[
youtube http://www.youtube.com/watch?v=g3t9-kf7ZNA
] During his life, MJ contributed to fight against famines, damaging environment, child abuse, education, diseases and racism. In 1985 he wrote  « We are the World » with Lionel Ritchie to fight against hunger in Ethiopia. In 1992, he created a foundation called « Heal the World ». This foundation delivered medicine for children and fought against AIDS, violence at schools and famine. MJ's humanitarian aid collected more than 400 millions dollars.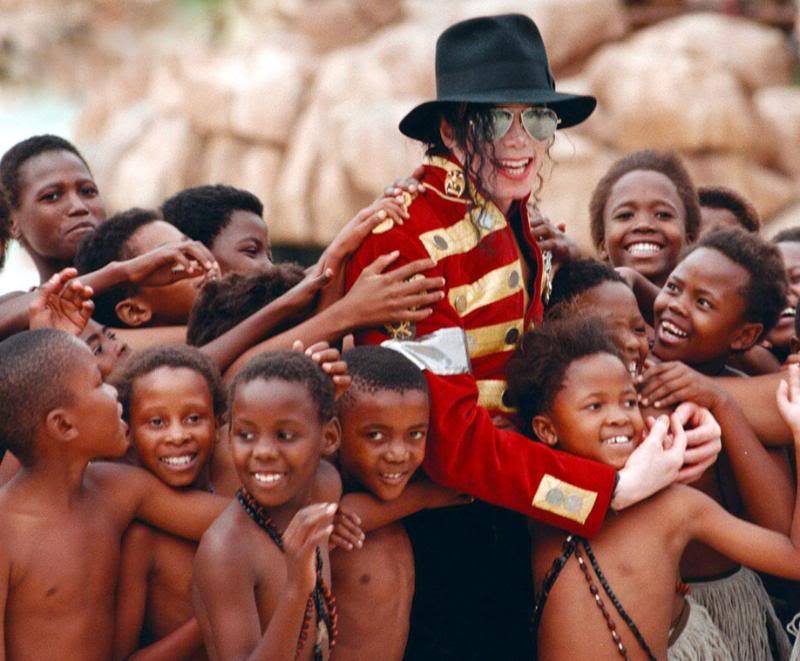 Many rumours said that he used to sleep in an oxygen bed and that he also bleached his skin. He changed his noise seven times or more, we don't really know. People even say that he abused children, but it was never proved and the justice court said he was innocent.
However, everyone must know that he was accused of plagiarism concerning a short passage of his song » Wanna Be Startin' Somethin » He used the sample of the song SOUL MAKOSSA « Mama-se, mama-sa,mama-coo-sa » which is an African song written by Manu Dibango who is a famous Cameroonian saxophonist and singer. Manu Dibango won the case and MJ was found guilty.
MJ et Lady Diana met in 1988 for the Bad World Tour in London. Knowing that she was attendind his concert, he decided to remove the song « Dirty Diana » from his set list in order not to shock the royal family. But the Princess told him that It was her favourite song. He was surprised and frustrated but since then, they became friends and shared many intimate moments, until the tragic death of the Princess in 1997.

Personally, I love him very much, I have even got the Wii game » Michael Jackson The EXPERIENCE » My mum gave it to me for my birthday…and I LOOOVE IT.
THIS IS IT !
Yasmine Yacuba-Toupidie (2nd3 – Lycée Martin Luther King)